Dr. Richard Nejat, D.D.S.
Leader in Minimally Invasive Dental Surgery
Diplomate, American Board of Periodontology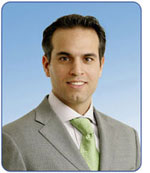 Dr. Richard Nejat is a Board Certified Periodontist* whose practice is in the forefront of computer guided implant dentistry and minimally invasive dental surgery.
Dr. Nejat attended college at Drew University and continued his education at New York University where he attained his Doctorate of Dental Surgery. Dr. Nejat was elected to membership in the prestigious Omicron Kappa Upsilon, The National Dental Honor Society recognizing academic and clinical excellence in dentistry. Dr. Nejat completed a three-year residency in Periodontics and Dental Implants, earning his certificate in Periodontics from The State University of New York at Stony Brook University. Dr Nejat is currently Clinical Assistant Professor in the Department of Implant Dentistry & Periodontics and Full-Mouth Rehabilitation CE Course at New York University. He is also is Clinical Assistant Professor in the Department of Implant Dentistry & Periodontics at Stony Brook University In addition to his professorship at New York University and Stony Brook University, Dr. Nejat maintains private practices in Manhattan and Nutley, New Jersey.
Through an educational grant from Colgate, Dr. Nejat published a continuing education article entitled: "Periodontal Inflammation: The Oral Body Connection." This peer-reviewed publication was designed to help dentists, physicians, dental hygienists, and dental assistants understand the relationship between periodontal disease and its systemic influence.
Dr. Nejat was a Research Investigator on two major projects: (1) A Pivotal, Randomized, Parallel Evaluation of Recombinate Bone Morphogenic Protein-2/ACS and Standard Bone Grafting Materials for Maxillary Sinus Floor Augmentation, and (2) a Multi-center Phase 3 Trial of Minocycline Periodontal Therapeutic System (Minocycline PTS): Adjunctive Use in Patients with Adult Periodontitis. Both of these medical devices have received FDA Approval.
Currently, Dr. Nejat is involved in numerous clinical research projects on topics including: flapless dental implant surgery, minimally invasive periodontal plastic surgeries, and computer guided dental implant surgery with immediate function. He has developed a new 3D/CAD-CAM technique that allow for an Immediate smile with dental implants in cases where extractions are needed in a minimally invasive manner.
Dr. Nejat is active in professional continuing education. He lectures national and international at the American Academy of Periodontology annual meetings, Academy of Osseointegration annual meetings, and dental societies on topics including:
Computer Guided Dental Implant Surgery
Immediate Loading of Dental Implants
Minimally Invasive Dental Surgery
Periodontal Medicine with Systemic Health Implications
Same day Dental Implant Surgery
Periodontal Plastic Surgeries such as Crown Lengthening and Dental Implant placement
Dr. Nejat's Lectures & Webinars
Dr. Nejat at the 2013 Annual Meeting of the Academy of Osseointegration
Lecture at the Annual Academy of Periodontology Meeting
The American Academy of Periodontology (AAP) is an 8,000-member association of dental professionals specializing in the prevention, diagnosis and treatment of gum diseases and diseases affecting the gums and supporting structures of the teeth and in the placement and maintenance of dental implants. The current membership includes periodontists and general dentists from all 50 states as well as around the world.
Periodontal Disease and Smokers Webinar
Periodontal disease is more prevalent and more severe in smokers than in nonsmokers. The host response in smokers is altered by a number of factors including increased gingival crevicular fluid, adhesion molecules and genetics. In addition, smokers are poor healers compared to nonsmokers and their response to periodontal therapy can be compromised which can result in continued progression of periodontal disease, or the need for more treatment.
Lecture – Advanced Computer Guided Implant Dentistry
Dr. Nejat was invited by the Academy of Osseointegration to speak at their annual international meeting on March 5, 2011 in Washington, D.C. on the topic of Advanced Computer Guided Implant Dentistry. Watch the presentation and listen to Dr. Nejat's lecture below.
Dr. Nejat is a member of the American Dental Association, American Board of Periodontology, American Academy of Periodontology, Academy of Osseointegration, Northeastern Society of Periodontists, New Jersey Society of Periodontists, New York Dental Society, and International Congress of Oral Implantologists.
Dr. Nejat specializes in same day dental implants with immediate function (Same day implant teeth), and he is consistently invited to lecture on the topics in his area of expertise: minimally invasive and computer guided dental implant surgery with immediate function. Dr. Nejat has lectured on these topics numerous times on the main podiums at the annual meetings of both the Academy of Periodontology and the Academy of Osseointegration.
He was appointed by the Academy of the Osseointegration, as a section participant of the State of the Science on Implant Dentistry Consensus Conference. The findings of this meeting will be used by dentists and dental specialists internationally to guide them on the current methods and research within the field of implant dentistry. Dr. Nejat volunteers for the American Association of Women Dentists' program for battered women, "Smiles for Success", which helps build self-confidence in these individuals as they begin anew. He also volunteers for the Academy of Cosmetic Dentistry's "Give Back a Smile" Program, which helps needy people get the proper care to get their smiles back using his Smile in a Day™ procedure. Recently, Dr. Nejat has been featured on UPN/Fox News with a live computer guided dental implant surgery demonstrating NobelGuide™ and Teeth-in-an-Hour™.
In his leisure time, Dr. Nejat enjoys photography, mountain biking, but mostly just spending quality time with his wife Tiffany and their sons James, Ashton & Miles.
*What is a Diplomate/Board Certified Periodontist?
A Diplomate is a periodontist who has made significant achievements beyond the mandatory educational requirements of the specialty and who is certified by the American Board of Periodontology. In addition to the educational requirements, Board certification requires:
Comprehensive qualifying and oral examinations covering all phases of periodontal disease and its treatment, including dental implants.
Recertification every six years.
**Dr. Nejat only practices only at the northern New Jersey (Nutley) and Manhattan offices.
Dr. Richard Nejat, DDS New Jersey
230 Centre St #A, Nutley, NJ 07110